The Q3 2020 Hilton Capital investor call marked somewhat of a return to normalcy from the preceding months, which were largely overshadowed by uncertainty and fear surrounding the novel coronavirus (COVID-19) pandemic. While the human toll of the virus has been unfathomable and the economic damage was palpable in nearly every sector of the economy, the Hilton team began by acknowledging positive signs of normal life.
As is customary, Hilton Capital Management founder and Co-Chief Investment Officer Bill Garvey kicked off the call with general observations and laid the groundwork for the analyses ahead.
"Covid continues to be a concern," Garvey said. "Certain geographic areas have seen a spike in cases. While we may all suffer Covid fatigue and believe we are in the sequel to 'Groundhog Day,' this experience will end."
Garvey noted that there have been winners and losers and not much in between over the past several months. Businesses that correlated highly with the work from home movement and large players such as Amazon and Netflix prospered "beyond belief," during this period while commercial building owners, mom and pop businesses, restaurants and airlines suffered greatly.
"The dislocation between Main Street and Wall Street is real," said Garvey.
Continuing his observations into the markets, Garvey noted that it's, "risk on in the markets with equities nearing all-time highs. Large Cap tech equities led the charge and investors paid for growth, especially in the work from home sectors."
All told, Garvey was sanguine about the recovery but pointed to the weakness in banking and energy and several important consumer variables outside of necessary consumables and staples.
"Solutions will not come overnight," he warned. "There will be fits and starts. The healthcare crisis is still the foremost concern and we applaud the public for doing its part. Ultimately medicine and ingenuity will win and patience will reward the investor."
Garvey concluded by outlining some similarities and differences between the current crisis and the financial crisis of 2008 and 2009.
"In both circumstances," he said, "there was a situation created by an outside force that was and will ultimately be resolved."
Garvey offered an optimistic view of the government's swift and overwhelming fiscal and monetary response as a result of what it learned from the financial crisis.
"The markets will provide clues as to a return to a normalized asset allocation," he said. "We're constantly monitoring markets looking for opportunities that fit the Hilton profile and offer the low volatility performance that our customers expect.
Macroeconomic Analysis Overview
Overview
What follows is an overview of the remarks given by Hilton Capital Co-Chief Investment Officer Alex Oxenham along with a brief summary of individual data points.
"I don't think there's ever been a time since I've been doing this for 20 years," said Oxenham, "where the economic outlook is so clear in certain aspects and so murky in others." Oxenham's presentation started with a nod to the slight downgrade in the Federal Reserve's long-term GDP growth expectations, from 1.9% to 1.85% when it met in September.
ISM Manufacturing and Services PMI
These data showed a sharp rebound from the previous quarter when the economy bottomed out. Certain components performed well but confidence remains subdued. There are still supply shortages associated with difficulty sourcing raw materials as the COVID-19 crisis looms over the real economy. In terms of ISM manufacturing versus global manufacturing, Oxenham illustrates the difference between U.S. style stimulus and that of other nations saying, "most of the global stimulus has been around loan guarantees and forgiveness, whereas the U.S. did much of the same but also poured $3 trillion in fiscal stimulus so the U.S. consumer is in a much stronger position relative to the rest of the world.
GDP Growth
Real GDP growth for 2020 will be down between 3 and 4%, which is catastrophic but not as bad as it could have been given the circumstances surrounding the spring into summer collapse. The expectation is that we'll be at 7% GDP growth through mid next year and 3 to 5% on the whole, but that depends on additional stimulus.
The Conference Board of Leading Indicators data go back to 1974 and indicate a quick recovery, the steepest on record. Oxenham noted that we've also never experienced a drop of this size in a single month either. In terms of when we will officially emerge from the recession, the 12-month leading indicator moving average always "pops" when coming out of a recession, which has yet to happen but should in the coming months.
Industrial Production
Industrial production is improving but still a little weak as only 24% of industrial production component industries are growing. If you compare the data to 2008 and 2009 it's of a similar magnitude so Hilton expects these numbers to grow and recover in the coming months.
Inflation
Inflation readings declined in all categories, particularly in urban rents—down 20% to 30% in certain areas—which is pushing down inflation readings. The committee has always noted a correlation between oil prices and inflation, but even this has broken down slightly in 2020 with oil hovering around $40/b, so expectations are stuck between 1.6 and 1.8%.
Employment
On the prior quarterly call, Oxenham indicated that employment will be the most critical component when analyzing the strength of any recovery. With initial jobless claims around 800,000, Oxenham calls this figure "stubbornly elevated." He also expressed concern over the accuracy of these figures given some states like Massachusetts, Maryland and California had such an extreme collapse in their local job markets that their systems struggled to keep pace. He highlighted the use of antiquated technology, an element of fraud and a general reliance on old systems to track data efficiently as culprits saying, "it could take months to work the backlog of claims and I think labor might be better than people realize."
Continuing claims reached 25 million in April and are down to a little less than 11 million right now. For context, continuing claims peaked at 5.5 million in 2008 and 2009 so there is much work to do in order to catch up to the lows of the financial crisis.
Oxenham expressed greater concern at the 3.7 million of permanent job losses as these will have a longer lasting negative impact. He pressured officials to act more aggressively on another round of stimulus to avoid permanent structural damage to the labor force but noted that Federal Reserve Chairman Powell is extremely aware and focused on this.
Interestingly, Oxenham also pointed out that there are 6.5 million job openings, which is essentially the same as it was prior to the pandemic. Because this data set is not affected by official numbers, he interprets this as a sign that the labor market might be slightly better than the markets realize. One unfortunate data point that he extrapolated is the disparity in gender participation among the unemployed. There are millions of women who have been forced out of the labor markets, which Oxenham suspects is related to the hybrid learning models in schools and the disproportionate effect this has on forcing women to remain in the home during school hours. He warned of long-term negative outcomes should this situation persist.
Another curious turn in the numbers is the high level of optimism among small business owners compared with the low level expressed within the manufacturing sector noted above. Small business owners have expressed frustration over labor shortages, which belies the unemployment figures and, again, may further indicate that labor is stronger than anticipated. However, Oxenham clearly states that 15% of the economy essentially remains "offline," as hospitality, travel and sports are sidelined. Nevertheless, small business confidence has once again reached pre-pandemic levels. One last note on employment is that payroll growth is down 3.6% year-over-year, which is higher than the negative between 2008 and 2009. Having said that, Oxenham expects these figures to normalize in the coming months.
Housing
One particularly bright spot that Oxenham highlighted in the economic analysis was the "completely explosive growth" demonstrated in the housing market, noting there has "never been a housing market like this in any recession." The number of new single family homes sold demonstrate an enormous tailwind driving by several factors that reflect what he called, "a return to housing boom levels."
The factors leading to this growth include the natural tendency of millennials coming of home-ownership age and financial capacity, urban flight due to the pandemic and extremely low interest rates. These factors coupled with a low supply of housing are contributing to the boom.
Alternative Data
The Q2 call introduced new economic slides of alternative data that the Hilton team believe are more timely predictors of trends. Oxenham highlighted upward trends in business foot traffic and a slight uptick in airport traffic, though nowhere near the levels that would suggest a recovery in travel as of yet. Open Table, a restaurant reservation app offered some hope in the beleaguered hospitality industry, but the overall figures suggest that in person dining remains down 25% to 30% across the nation. Further indicating the precarious nature of mom and pop business owners, Oxenham drew attention to the fact that most of the progress appears to favor national chains and larger organizations rather than local restaurants and family-owned businesses.
Markets
Pursuant to the chain store success above, 3rd quarter data clearly suggests that larger companies are doing far better in the early stages of the recovery than small businesses, despite the optimism among small business owners. The Hilton team believes there is a great deal of pent up consumer spending that will eventually filter through the economy to broaden the recovery but that it's too early to make any prognostications as to when this might occur.
Some commodities have bounced back with a lower dollar but crude oil, which we noted above has somewhat disengaged from the rest of the market, remains around $40/b. Even declining production hasn't moved the needle in oil prices.
The S&P 500 continues to be a tale of two markets with weighted performance, most notably from the technology sector, responsible for the overall gains in the broader S&P. Even with the disparity in performance within certain sectors, Oxenham underscored the impressive performance of the United States as compared to its industrialized peers around the world. The U.S. market performance is nearly 50% higher in total returns over the past five years than the rest of the global markets.
Junk bonds are still positive on the year, up 1% year-to-date and high yield spreads are still elevated, as is the 10-to-2 year spread, which is to be expected. Oxenham believes the 30 year bond yields, which haven't moved much, could move higher but will obviously trade in line with inflation expectations.
Behind the market is the enormous influence of the Federal Reserve, which increased its balance sheet by $3 trillion in addition to $3 trillion in direct government stimulus.
"I cannot find a comparable level to the 23% in money supply growth. It's absolutely historic," said Oxenhamm. "Even in the 1970s, the highest it reached was 14%."
Hilton Tactical Income Asset Allocation
Hilton Capital CEO Craig O'Neill rounded out the call by outlining moves made in asset and sector allocations over the past quarter. The acceleration in the equity market was more than a retracing from lows in April, even as the markets accounted for a quick September correction. But, as O'Neill pointed out, "a handful of names, most of which you would expect, really drove the momentum."
O'Neill did note that since the September selloff, more of the market appeared to "come along for the ride," which was a positive for Hilton's core strategy, Tactical Income.
"We shifted TI into a higher equity allocation, somewhat due to the lack of opportunity in traditional fixed income," he explained. "Fixed has been challenging, but not impossible, as there is still room for spreads to narrow."
The investment team has selectively added equity names they believe will perform in the short-term and in an extended recovery, and will likely remain neutral irrespective of the election outcome. That said, O'Neill acknowledged that the election will bring increased volatility so the short-term is more difficult to predict.
One area the investment team revisited from years prior was real estate. The team added REITs to the Tactical Income position, which drew questions from the call participants in the Q&A session. In response, the team delineated their real estate positions with three specialty REITs that avoid weak subcomponents such as office space, hotels and retail. The committee believes that a mix of investments into REITs that focus on data storage, industrial and warehouse, communications and cell towers have tremendous upside potential.
In terms of specific sector holdings, the team divested of a healthcare position that had "run its course," and increased its allocations slightly across a broad spectrum of holdings from technology and utilities to consumer staples and consumer discretionary equities, the last receiving the largest investment increase.
The more dramatic shifts came on the fixed income side of the equation. Preferreds moved from 12.3% to 16.6% while corporate bond holdings were reduced from 26.6% to 22.8%. The investment team added a new asset class entirely on the fixed income end with a stake in Emerging Market Debt expressed through an ETF and designed to take advantage of a weak U.S. dollar. The largest moves to the negative were in U.S. Treasuries moving from 9.1% to .5% and mortgage backed securities going from 11.4% to .8%.
The Final Tactical Income Strategy Allocation – End of Q3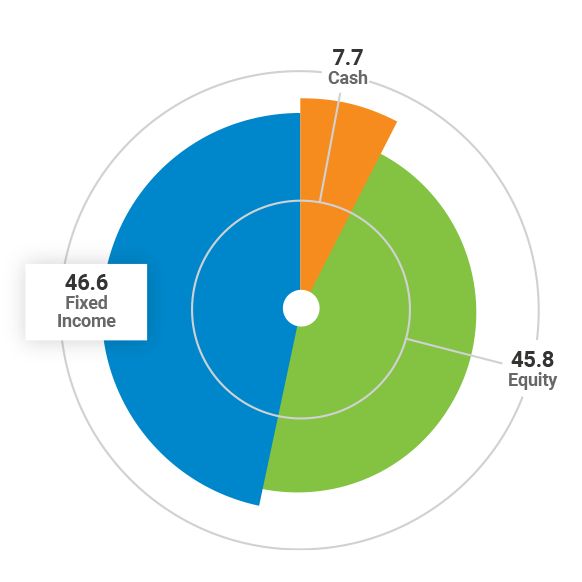 7.7% Cash
45.8% Equity
46.6% Fixed Income
Morey Creative and Hilton Capital Management staff ("HCM") collaborated in the preparation of this article. Morey Creative is a marketing firm engaged by HCM. HCM has reviewed and approved this article for distribution. The information set forth in this article should not be construed as personalized investment advice. There is no guarantee that the views and opinions expressed in this article will come to pass. Investing in the markets involves gains and losses and may not be suitable for all investors. The information set forth in this article should not be considered a solicitation to buy or sell any security.