Another day, another tweet-storm. Chaos is the norm and the unexpected has become the expected. The press contorts and rages, the administration fires back, and the markets… The markets carry on. Trade wars, indictments, sabre-rattling, scandal. No matter the situation of the day, the markets are as unphased as the media is nonplussed. Or to borrow a popular Internet meme, the markets have basically responded by saying:
"Hold my beer."
"Politics create more drama," says Hilton portfolio manager Tim Reilly. "For the most part, we discount politics. Until, of course, it affects the economic data. If it affects the price of oil, for example, it could impact inflation so we don't turn a blind eye. We're simply more data-driven in a macro sense." Hilton co-CIO Alex Oxenham is quick to agree saying, "Generally it's not a factor. War. Brexit. The economy moves forward no matter what. But I get it. Sometimes it's hard to see past your immediate constituency. And there are times political decisions can impact certain sectors."
---
It's almost ancient history to recall that the VIX (Volatility Index) reached a high of 37 at the beginning of the year, considering it spent most of the summer at or below 15.
Lately, however, there is a growing concern with talk of trade wars, which has dominated both financial and mainstream media headlines. The Trump administration has locked horns with several competitors, even those that have been traditional allies and robust trading partners of the United States. The Hilton team members acknowledge that there will ultimately be real-life economic repercussions if a true trade war takes hold. But as Hilton founder Bill Garvey cautioned on the most recent investor call, "we think calmer heads will prevail. If not, we'll be prepared to adjust no matter the economic implications."
After the call Garvey expanded on this idea saying, "short-term blips occur for several reasons, including political machinations. Equity might flux and individual companies or sectors will be more affected than others. Nevertheless," he continues, "we look at the fundamentals. The secret is not to listen to the noise and just listen to your discipline. We're pretty good at recognizing situations while they're unfolding and making the proper adjustments to mitigate risk in our strategy."
"Lately, there is a growing concern with talk of trade wars… We think calmer heads will prevail. If not, we'll be prepared to adjust no matter the economic implications."
One of the unsung heroes in the ongoing drama has been the Federal Reserve Board. "I would give them a pretty high grade," says Oxenham. "I think they've done a good job encouraging the recovery despite a slow start initially. From 2006 to '08 I think they focused too much on their internal models and didn't account for a wider view. Overall, they've been transparent in what they have done since that time and the end result is that a lot of their measures worked.
The Fed has been forever changed," continues Oxenham. "They've become more forceful and proactive, and we can debate whether that's a good thing or not. But given the subtext of political uncertainty, I see it as a positive trend that they have stepped up to be the adults in the room."
---
With mid-term elections approaching, political volatility is almost guaranteed to increase.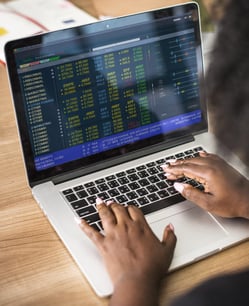 "Ironically," notes Garvey, "the more volatile our politics, the less volatile the markets have been. Especially throughout the summer months. If you think back to the beginning of the year, volatility in the markets was extremely high but it seems to have gone on vacation this summer. You have to step back and look at fundamentals in relational terms.
"At this moment, value stocks and small caps continue to lag growth by over 10%," continues Garvey. "Gains in the dollar and crude have created some inflationary pressure and bonds have been pressured as well. But GDP growth and a cash infusion fueled by the tax cuts are all now being factored into an already healthy economy. So regardless of what's happening in the news cycle, you have to focus on the core fundamentals and the relationship and interdependency therein."
As summer winds down and political rhetoric heats up from Labor Day until the November elections, we can most certainly expect more of the unexpected. Yet no matter what political surprises are in store for us, it appears the markets will remain generally unphased and stay focused.
Morey Creative and Hilton Capital Management staff ("HCM") collaborated in the preparation of this article. Morey Creative is a marketing firm engaged by HCM. HCM has reviewed and approved this article for distribution. The information set forth in this article should not be construed as personalized investment advice. There is no guarantee that the views and opinions expressed in this article will come to pass. Investing in the markets involves gains and losses and may not be suitable for all investors. The information set forth in this article should not be considered a solicitation to buy or sell any security.