The flagship strategy of Hilton Capital Management is the Tactical Income Strategy. Founded in 2001 by Hilton Capital founder and Co-Chief Investment Officer Bill Garvey, Tactical Income is a managed multi-asset portfolio of income producing securities designed to preserve capital, minimize volatility and provide competitive total returns over a variety of market cycles.
Because the strategy itself takes a broad, yet comprehensive approach to investing, investors and managers often ask how best to position Tactical Income within an existing portfolio.
There are two ways to interpret "fit" when evaluating Tactical Income. The first is how it fits in terms of an investor profile or risk tolerance. The second speaks to how it fits strategically depending upon an investor's portfolio structure.
In terms of the former, Tactical Income enhances a conservative, balanced and aggressive allocations. When incorporating Hilton's Tactical Income Strategy - gross of fee composite performance and assuming quarterly rebalancing - into these three types of portfolios since 2001,Tactical Income has demonstrated improved returns and mitigated downside risk.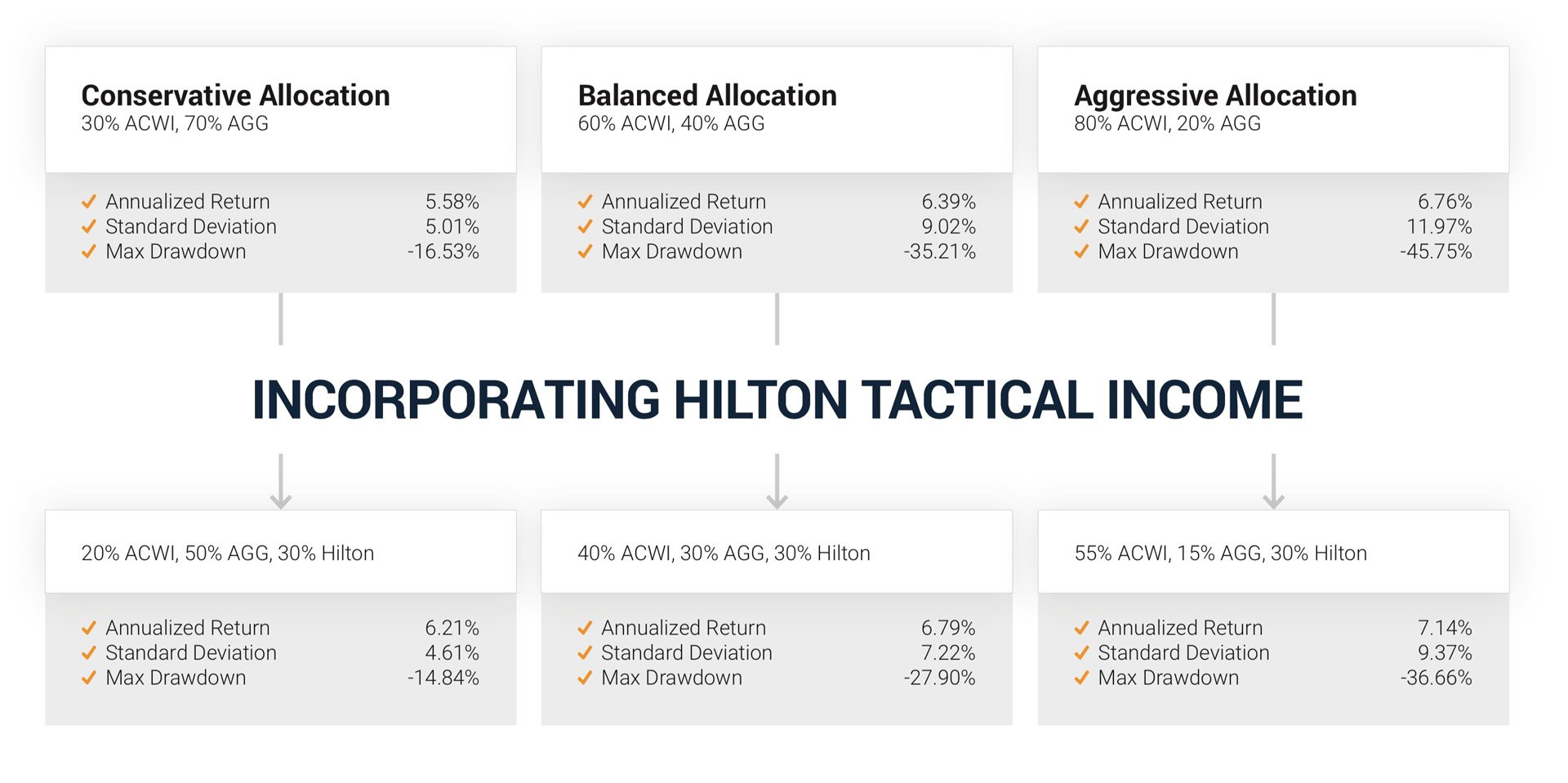 Performance above is not intended to reflect the actual performance of the Hilton Tactical Income Strategy, for more information regarding the net of fee performance of the Hilton Tactical Income Strategy please see important disclosure language here. The market indices referenced above (sourced from Morningstar) are included for comparative purposes only, as an index is not a security in which an investment can be made and does not account for the fees and expenses generally associated with investable products and/or managed accounts. This document does not, and does not purport to, discuss all of the risks associated with any investment or the use of any strategy employed by HCM.

The information and data shown is for informational purposes only and should not be viewed as a recommendation or solicitation of an offer to buy or sell any securities or investment products or to adopt any investment strategy. The reader should not assume that any investments in companies, securities, sectors and/or markets identified or described were or will be profitable. Current and future portfolio compositions may be significantly different. Investing entails risks, including possible loss of principal. Actual client account composition and overall returns vary, and may have been impacted by economic events and market conditions that will not endure going forward. Past performance is no guarantee of future results.
Where Tactical Income fits strategically within a portfolio, Co-Chief Investment Office Alex Oxenham offers four different ways to view the strategy.
"For me, Tactical Income fits primarily four ways."
Income.
"Very importantly, we have differentiated sources of income. Our yield-oriented portfolio is not only generating income from traditional fixed income and equities, we're incorporating convertible bonds, closed-end funds that invest in non-agency mortgage backed securities, eclectic preferreds, different types of corporate bonds that aren't really available in index or large money manager strategies - and we're marrying them in a way to create a unique risk experience. So ultimately as a companion to a fixed income portfolio, having a differentiated source of income is very valuable to an asset allocator."
Rebalance Underweight Equities.
"Another important way is for clients that are either overweight or underweight equities. Clients that didn't invest coming out of the recession are typically underweight equities and are very concerned about market volatility so Hilton gives them a vehicle to get invested in the market but to also play into the fears they have associated with the markets."
Rebalance Overweight Equities.
"On the flip side of that, investors who've been overweight equities for the last five or six years have done very well and if they haven't rebalanced they're running the risk of taking too much risk at the moment. And we've seen a lot of investors do this: Rebalance, dial back equities and allocate to fixed income. Well many of them don't want to allocate to fixed income because yields are one, two and three percent if you're lucky. And so they've been choosing Hilton Capital as a way to dial back risk but maintain levels of income."
Streamlining.
"And then conversely, or maybe finally, it's a great core portfolio for someone who needs income and is concerned about risk and doesn't want to deal with 15 money managers. So we can serve as the bedrock for a client's portfolio. So many investors do choose us to manage a bulk of their assets."
TO LEARN MORE ABOUT HILTON CAPITAL'S TACTICAL INCOME STRATEGY PERFORMANCE, VISIT OUR RESOURCE CENTER
---
*Tactical Income Composite contains fully discretionary, qualified and non-qualified accounts following a tactical income strategy (accounts invested in MLP's, pooled vehicles and dividend earning securities) including investments for the purpose of preservation of capital along with capital appreciation for comparison purposes is measured against a blended benchmark (L60S40) (The benchmark was changed 7/01/07, in presentations shown prior to 7/01/07, the composite was compared against the MLHM2- Merrill Lynch High Yield Master II Index. The benchmark was changed to more accurately reflect the strategy of the composite). The blend consists of 60% of the Barclays Intermediate Government Corp (LBGCI) and 40% of the S&P 500 Reinvested (SP500T). The blend is rebalanced monthly. We compare our performance to these indices because the equity allocation of the Tactical Income Composite is invested in large cap core stocks, Master Limited Partnerships and Real Estate Investment Trusts. Other equity holdings may be added at the discretion of the investment manager. The fixed income allocation is invested in intermediate-term treasuries, agencies, and high grade corporate.. **N/A – Information is not statistically meaningful due to an insufficient number of portfolios in the composite.*** The three year annualized standard deviation measures the variability of the composite and the benchmark returns over the preceding 36 month period. The standard deviation is not required for periods prior to 2011. 2012 Composite assets were understated by $24.09 million due to a correction of two accounts. Effective January 1, 2015 the Yield Plus Composite has been retitled the Tactical Income Composite. The 2013 number of accounts were overstated by 25 accounts due to wrap accounts being mistakenly included in the composite.

Hilton Capital Management, LLC claims compliance with the Global Investment Performance Standards (GIPS®) and has prepared and presented this report in compliance with the GIPS standards. Hilton Capital has been independently verified for the periods October 1, 2001 through June 30, 2019. Verification assesses whether:
1) The firm has complied with all the composite construction requirements of the GIPS standard on a firm wide basis.
2) The firm's policies and procedures are designed to calculate and present performance in compliance with the GIPS standards. The Tactical Income composite has been examined for the periods January 1, 2002 through June 30, 2019. The verification and performance examination reports are available upon request.
Hilton Capital Management, LLC is an independent registered investment adviser. The firm began on October 1, 2001 and maintains a complete list and description of composites, which is available upon request.

Results are based on fully discretionary accounts under management, including those accounts no longer with the firm. Past performance is not indicative of future results. The U.S. Dollar is the currency used to express performance. Returns are presented gross and net of management fees and include the reinvestment of all income. Net of fee performance was calculated using actual management fees. The annual composite dispersion presented is an asset-weighted standard deviation calculated for the accounts in the composite the entire year. Additional information regarding the policies for valuating portfolios, calculating and preparing compliant presentations are available upon request.

The investment management fee schedule for the composite ranges from .50 basis points to 1.25 basis points. Actual investment advisory fees incurred by clients may vary. The Tactical Income Strategy incepted in 2002. The grouping of portfolios included in the composite was amended in 2010, resulting in a composite creation date of January 1, 2010. The creation date is defined as the date when the firm first grouped portfolios to create the composite.
Morey Creative and Hilton Capital Management staff ("HCM") collaborated in the preparation of this article. Morey Creative is a marketing firm engaged by HCM. HCM has reviewed and approved this article for distribution. The information set forth in this article should not be construed as personalized investment advice. There is no guarantee that the views and opinions expressed in this article will come to pass. Investing in the markets involves gains and losses and may not be suitable for all investors. The information set forth in this article should not be considered a solicitation to buy or sell any security.