As is customary, Hilton Capital Management founder and Co-Chief Investment Officer William Garvey kicked off the Q4 2020 review with an overview of the prior quarter and context for the road ahead.
Garvey acknowledged the challenges facing the new Biden administration with much of the labor market still severely impacted by the COVID-19 pandemic and the difficulty the country has experienced distributing approved vaccines to a concerned population. Nevertheless, Garvey struck an optimistic note that this "problem will be solved and herd immunity will be at a high level," toward the end of 2021.
The prospect of another federal stimulus package in the first part of this year will be "a boon to reinvigorating the economy," causing GDP to "rise significantly," noted Garvey. He further believes that the Federal Reserve will continue to assist the economy, citing the old adage "don't fight the Fed." The continuation of low rates "has steered investors into a 'risk on' mood," which Garvey believes will further fuel gains in the equity markets.
Perhaps Garvey's largest concern, however, is the "divergence between Wall Street and Main Street, with 15 million still unemployed."
The most notable economic highlights continue to be historically low spreads, a widening yield curve and a highly interventionist Federal Reserve. He believes that equities have already "looked beyond six months and are anticipating recovery," and that we will see a "high demand for experiences, especially in travel and leisure," as consumers have stored capital in savings and will be looking to break out of the malaise that cast a shadow over all experiential activities in 2020.
But, he warns, the road to recovery won't be a straight line. "It will be filled with twists and turns, so the Hilton team will be following processes that have worked for us since 2001."
Garvey believes Hilton's overall holdings are right for the current market environment, adding that "we are constantly looking for opportunities to deliver the low volatility performance that our clients expect."
Macroeconomic Analysis Overview
OVERVIEW: "All Systems Go"
What follows is an overview of the remarks given by Hilton Capital Co-Chief Investment Officer Alex Oxenham along with a brief summary of individual data points.
Alex Oxenham opened the economic deck discussion by addressing the title, "All Systems Go," indicating it should be taken with a grain of salt. However, Oxenham foreshadowed a mostly optimistic view of what's to come in 2021.
ISM Manufacturing and Services PMI
"Our process requires us to have a data driven investment process," he said. "Beginning with ISM data, you see very strong readings in the face of additional lockdowns. A very strong recovery is underway in 2021 and it's already unfolding. The most consequential part of the recovery process is manufacturing in the United States and in the world, though the global recovery has been nowhere near the level of the U.S."
"There are still major inventory shortages in the U.S., which you probably feel as a consumer, given frustrating wait times. So manufacturers have to meet additional demand and inventory shortages. This is what is going to set the recovery in motion for the remainder of the year."
GDP Growth
"The Atlanta Fed GDP forecast is around 7.5% so it's reasonable to expect in the 4% to 8% range," Oxenham said. "I think the first quarter could be flat to slightly negative but looking out to Q2 and Q3 you'll see above average to high growth.
"The Conference Board of Leading Indicators suggests we came off the recession around July [2020] then we immediately dipped into another in November and we'll be coming out of it shortly. I think you'll see an uptick in the next three months."
Inflation
"Inflation readings have bottomed out so you should expect to see increases. You're going to see a lot of articles about cost of living increases, which we'll talk about," Oxenham explained. "Remember that oil is the main driver of inflation. Oil tracks closely to 10-Year Breakeven Spreads and our readings suggest oil could reach as high as $70/b at some point during the summer. I think this is a reasonable assumption."
Employment
As with prior quarters, employment continues to be one of Oxenham's primary areas of focus.
"U.S. initial jobless claims according to government data have improved but it needs to improve dramatically," said Oxenham. "A large part of the economy is still shut and in California and New York we have reimplemented lighter versions of lockdowns. It's nice to see continuing claims come down as well but we still need to see great improvement in this data set."
"One that's harder to predict but extremely important is the number of permanent job losses in the economy," continued Oxenham. "This is what matters in terms of aggregate labor income. What's interesting is the number of available jobs is actually positive year-over-year. Openings and hirings are almost back to pre-COVID levels so it looks to us like outside of the most severely impacted sectors, the economy is back to normal. Bottom line is that I think labor is much stronger than it appears."
"Remember on the last call we highlighted the disproportionate negative impact on women in the workforce, largely as a result of alternative schooling, and that was extremely troubling," he added. "This has dramatically improved over the past two months, which is a really good sign. However, the biggest issue that remains is related to income levels."
"If we look at the percent change in employment based upon whether you're a high, middle or low wage earner is concerning. Top wage workers, those making above sixty thousand dollars per year actually saw a 1.2% increase," Oxenham said. "Middle income earners are down about four percent. But low wage workers have experienced severe disruption, down nineteen percent. So while aggregate income is up, it's misleading because low wage earners have really taken the brunt of the negative economic impact. These are the nuances that need to be understood to really contextualize the recovery."
"Payroll growth is still severely suppressed overall so these charts are by no means normalized just yet."
Small Business Optimism
Oxenham pulled out the Small Business Optimism index to highlight just how nuanced and unconventional the economic environment is currently.
"Small business optimism improved dramatically when Trump was elected and never dipped even during the recession," Oxenham said. "Biden's election caused the index to dip from 101.4 to 99 despite most data indicating a robust recovery in 2021. Prior to COVID the number one concern was finding talent. Now it's taxes. It just shows that this is somewhat politically biased as taxes haven't even increased. That's not to say it's a worthless index, but it's down from April of 2020, the height of the pandemic."
Housing
The suburban migration continues with people moving from urban environments to the suburbs now that work from home is becoming a quasi-permanent reality.
"Housing is very, very strong and that's obviously a good sign for several parts of the economy," Oxenham added. "It remains to be seen what happens to our cities as they struggle to maintain high income families."
Alternative Data
Beginning in 2020, the Hilton team has introduced some alternative (non-governmental) data points to the economic deck to illustrate some lags in traditional data. It should be noted that these have not been fully integrated into Hilton's proprietary investment models as of this point. Oxenham indicated that the investment team will continue to evaluate the efficacy of the data given it's "high frequency nature" and "ability to call data points much faster than the government."
"The data show a slowdown in foot traffic again when you look at retail and food and beverage," said Oxenham. "There has also been an uptick in searches for unemployment terms and pandemic unemployment keywords on the search engines. The latter most likely relates to the extension of unemployment benefits. The huge recovery we saw last quarter in Open Table seated diners has also retrenched a bit, which makes sense considering further lockdowns and northern states entering cold winter months that largely impacted outdoor dining configurations."
Markets
"Commodity prices are surging on a weak dollar and crude oil production should stabilize; in fact more production is likely to come online," explained Oxenham. "Plus, the new administration will likely make it more difficult to increase supply, which is probably not a bad thing for prices. This is one of the reasons you're going to see a lot of articles about pressure on the consumer as a result of rising commodity prices."
An area the team has been digging into for a few quarters now is Emerging Markets. "We're seeing strong performance in emerging market equities, particularly as it relates to exports of raw materials," Oxenham noted. "This correlates with what we see in extremely low inventory levels so this is certainly a great early stage recovery metric."
The domestic equity market has also begun to correct slightly from overweighted F.A.N.G. performance we saw in 2020. "The gap is narrowing so F.A.N.G. is not leading the way as the broader economy opens and more companies participate in price appreciation. What's interesting is since May of 2020 the international equities market is outperforming U.S. equity recovery and I don't see many people talking about that," said Oxenham. "That said, the U.S. recovery is a global synchronized recovery for sure."
"Junk Bonds were up 4.9% in 2020. I think there was broad acceptance of a massive default wave that ultimately proved to be wrong," he continued. "In terms of the S&P versus High Yield Spreads, there is simply no yield left. Credit spreads have narrowed as if nothing is wrong. There's also very little value in High Yield Triple B's. I don't want to signal caution because I think the market will do well but there's a lot more risk in interest and bonds than ever before."
"The Fed has pinned short-term rates low but longer-term rates are being pulled higher," he said. "So the Fed will be put in a box by the end of the year as the market tries to force its hand." "At some point, they have some hard decisions to make," Oxenham said. "As far as the S&P is concerned, I think it's overvalued but not as elevated as it appears."
"One important point before we move to asset allocation is to stress how incredible the Fed's intervention has been. The Fed increased its balance sheet to $7.4 trillion in 2020. The broad money supply index is up about 25%. I can't find a time in history when we've seen monetary growth that high but as we noted in a recent article on our site, velocity has declined 18% over the same period. The net effect is a wash in terms of inflation implications. Obviously people are concerned about inflation and there will be some data to back this up as CPI could be north of 3% by June. When compared year-over-year, this will feel and appear very high. But what matters is where it normalizes so that's what we'll be paying attention to.
Hilton Tactical Income Asset Allocation
Hilton Capital CEO Craig O'Neill concluded the call by detailing the asset allocation in the Tactical Income Strategy as of the close of 2020. He characterized the fourth quarter as "action packed" and built on Garvey's sentiments regarding the virus resurgence, prospects of additional stimulus and a volatile election all having an outsized influence on the investment team's calculus.
"With all of the other factors surrounding the broader markets at the end of last year, equities continued their strong recovery," O'Neil said. "And there was meaningful participation in a broad swath of the market from small and mid cap and financial to energy stocks. This was certainly enhanced by a slow opening of the economy, which crushed credit quality and sent investors searching for yield in equities."
"The team added to the equity weighting in Tactical Income from 46% to north of 55%, which came from both fixed income and cash," he added.
"Fixed income went from 46.55% to 39.8%. Some of this was strategic and some was simply related to bonds being called and us deciding not to pursue more at this juncture," O'Neil explained.
"The sectors with the largest increase were financials and energy, both of which had strong tailwinds in the back half of the year. We also increased exposure in the tech sector but mostly in semiconductors and not the headline grabbing tech stocks," he continued. "You'll notice on the chart that we trimmed utilities and REITS, and this actually represents only one utility holding at this point."
"In terms of fixed income there were no real dramatic moves. The overall theme was lower across the board; everything down just slightly. Though I should note that we exited treasuries completely, but it was a small position to begin with. We also reduced emerging market debt just slightly. This was a tactical short-term move as it will be a fluid position as the U.S. dollar gyrates in 2021."
The Final Tactical Income Strategy Allocation – End of Q4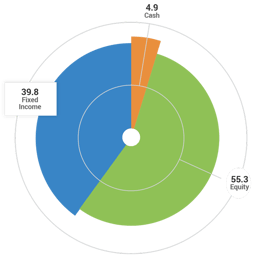 4.9% Cash
55.3% Equity
39.8% Fixed Income
Morey Creative and Hilton Capital Management staff ("HCM") collaborated in the preparation of this article. Morey Creative is a marketing firm engaged by HCM. HCM has reviewed and approved this article for distribution. The information set forth in this article should not be construed as personalized investment advice. There is no guarantee that the views and opinions expressed in this article will come to pass. Investing in the markets involves gains and losses and may not be suitable for all investors. The information set forth in this article should not be considered a solicitation to buy or sell any security.